White Tahoe Cookies
Noted as one of the strongest strains of 2020, the White Tahoe Cookies flower is gorgeous. It's noted as an Indica-dominant (roughly 70%) and its THC content clocks at over 27% — making it one of the world's strongest. "This cultivar is a blend of The White, Tahoe OG, and Girl Scout Cookies cut, and exemplifies attributes of each in trichome coverage, effect and aroma. The GSC bouquet has been enhanced through this cross, offering up sweeter, hashier notes with distant OG undertones."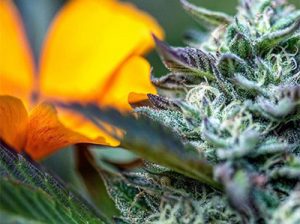 Described by Linsey Jones of Aloha, the White Tahoe Cookies is a cultivar "with spicy aromas of hash and citrus fruit, intermingled with sweet scents of mango and dank earthiness. This delicious Indica-dominant hybrid provides blissful full body relaxation and sublime aphrodisiac qualities."
In terms of effect, it may shock you how quickly White Tahoe Cookies starts to hit the senses. Within minutes you should expect to feel euphoric and creative. As far as the medicinal value, we are excited to see that it has been reported to help not only with rest but also alleviating minor pain and anxiety in some people who have been blessed to be able to try it.
The smell is out of this world. I am in love. Aloha Humboldt brought some to share with me, and it's amazing. The Aloha Humboldt property is on a mountain top in the Trinity Alps of Northeastern Humboldt, nestled in the heart of the Emerald Triangle. They are an estate farm using regenerative, environmentally conscious practices to bring the highest quality cannabis. Owners Linsey and Ryan Jones have been growing cannabis together since 1998.

Dr. Pepper Hernandez, ND, CTC, CNHP, is a Naturopathic Nutritionist, Cannabis therapy consultant, the Founder and Education Director of the Cannabis Holistic Institute. To find out more about her private practice, educational programs, videos and other offerings, please visit drpepperhernandez.com.