This pairing was designed by Khara Pechtes, Founder of Food Flower Future and Linsey Jones of Aloha Humboldt. Recipe by Chef Adel Aschenbrener.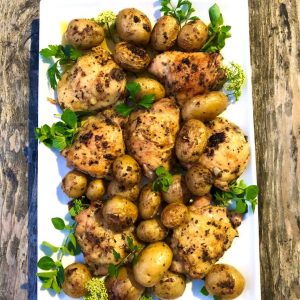 Is there anything more comforting than roast chicken? Savory and lemony, this classic dish is as delicious as it is easy to make and a perfect pairing with the herbaceous notes of Chem Dawg. Enjoy!
Roasted Lemon Chicken & Potatoes

Yield: 4-6 servings
Time: 1 hour
Ingredients: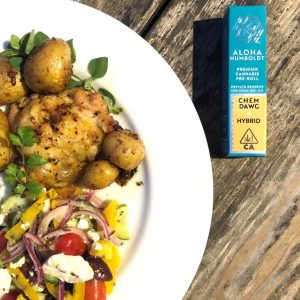 1-1½ pound bone-in, skin-on chicken thighs (6-8 pieces)
½-¾ pound potatoes cut in 1″ pieces
¼ cup olive oil
3 Tbsp fresh lemon juice
2 Tbsp water
3 garlic cloves
2-3 tsp salt
½ tsp ground black pepper
1 tsp paprika
1 Tbsp dried oregano (or 2 Tbs finely chopped fresh oregano)
¼ tsp red pepper flakes
*1 tsp tumac (optional)
Preparation:
1. Preheat oven to 425F
2. Combine all ingredients in a large bowl, making sure the chicken and potatoes are well coated with the seasonings.
3. Transfer to a sheet pan or baking dish and roast for 25 minutes.
4. Rotate the pan, increase the temperature to 450F and cook an additional 15-25 minutes or until internal temperature at the bone reaches 165 degrees.
* Chicken can be marinated with the remaining ingredients separately from the potatoes up to 24 hours in advance.
Aloha!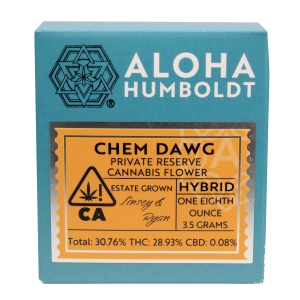 Chem Dawg is bold and deep with notes of savory miso, smoked almonds, roasted herbs, sea salt, and earth. As you continue to evaluate, the strain opens up with sour citrus and diesel aromas. The strain's herbaceous and savory notes continue on the palate followed by a hint of roasted almond flavors. Chem Dawg is calming and sedative – a perfect strain to pair with savory entrées and comfort food.