I've hosted a dozen cannabis-infused events in the Los Angeles area in the last two years, and my contacts were hoping for another one. But with the current landscape of events for 2020, how do we now bring people together, yet apart, for a cannabis food pairing, especially as conversation is a fundamental part of the experience? This was my dilemma.
An epicurean experience is a delicate thing–each event has its unique set of challenges due to location, the actual venue limitations, and unforeseen circumstances so it was important to think outside of the box.
Enter the world of Zoom. Real live dining, virtually connected. On July 18, Chef Pat Saphyakhajon and my cannabis sponsors joined Food Flower Future guests via Zoom for an evening of cooking, dining, cannabis pairing and conversation. With pre-planning already in place for our Thai-themed dinner, menus were emailed out, recipes for all 3 courses, shopping lists, and gift bags were delivered. By the end, the smiles, the laughter and the smoking were flowing as naturally as they were before. It is possible to reinvent cannabis-infused dining.
Linsey Jones of Aloha Humboldt joined us from her farm. As we enjoyed our summer succotash, she gave us a virtual tour of her farm nestled in the hills of Northeast Humboldt County, the mecca of cannabis. Seeing her gorgeous sungrown cannabis while enjoying it during the dinner created a pleasure all its own. I paired the succotash with her Forbidden Fruit, an unforgettable strain that enchants the nose and palate with its pink grapefruit and tangerine notes followed by a burst of red fruit and cherries.
 Try this recipe at home, paired with Forbidden Fruit from Aloha Humboldt. Bon Appetit!
Summer Succotash
1/2 cup of defrosted edamame
1/2 cup of corn off the cob
1/4 cup cherry tomatoes cut in half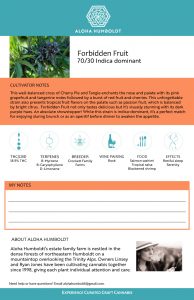 3 thin sliced radishes
2 handfuls of baby arugula
Coconut Ginger Dressing
1/2 can of coconut milk Thai brand Chaokoh or Aroy-d)
1/2 cup of mayonnaise
1 tbsp of fresh ginger grated or finely chopped
2 tbs of rice vinegar, white vinegar or juice from half of lime
1 tsp white sugar
Mix in medium bowl and whisk. Add in a pinch of salt & white pepper. Pour dressing and toss over succotash mix.